After 3 attempts so far to seize the occupied Prosfygika of Alexandras Avenue, with various excuses covering up the cannibalistic destructive fury against the resisting social fabric that's taken root in the area, as well as 1 ultimatum to evacuate, the Community of the neighbourhood is still going strong as it has for years, on the road of the collective struggle for survival, dignity, equality, freedom, solidarity, and comradeship among its poor and oppressed residents and not only them.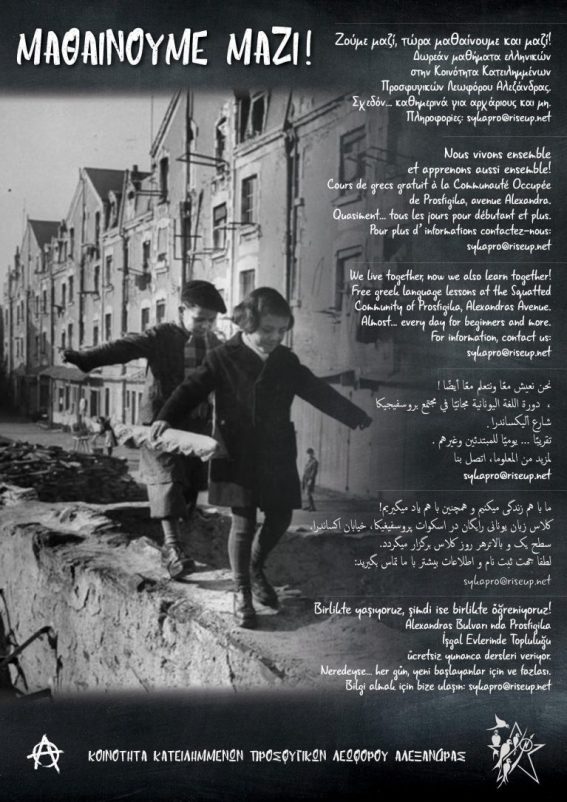 In difficult times, with social dynamics hostile to every construct of resistance, the Community of the Occupied Prosfygika of Alexandras Avenue emphatically states that the maths of capitalist plunder is just NOT ADDING UP! Defying threats of redevelopment and repression, it's still fiercely working to widen the paths where the oppressed can walk together, with collective care for problems and needs—and not just within its mosaic of residents. Besides the already-existing self-organised structures (assembly space, collective kitchen, collective skipping, collective internet, works for building and network maintenance), it's now opening the window of self-education to the world beyond the neighbourhood. The greek classes that have been going since last year are now ready to function on an almost daily basis: "We live together, we also learn together".
– This week, classes continues on Wednesday/Thursday 6:00pm, and from next week Tuesday/Friday 4:30pm, Wednesday/Thursday 6:00pm.